Mock tests
Sign-up form
Note: If you don't find the confirmation email in your inbox, check the `Promotions' tab.
21 sign-ups so far
Mock tests will start after 60 students sign-up.
---
Style of questions
CMI Tomato mock tests will have questions modeled along the lines of previous years' questions. Emphasis will be slightly more on standard techniques rather than ingenuity.
Format
Each test will have 10 objective questions and 6 subjective questions. Each test will carry a total of 100 marks (40+60).
---
Subscription options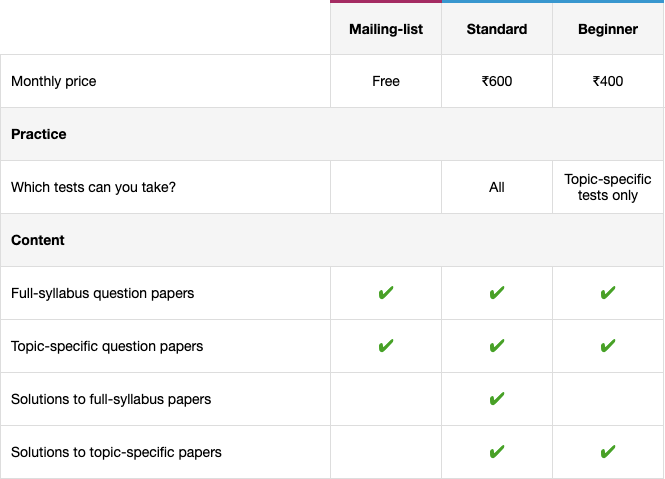 Please note: Subscription has to be renewed each month.
The beginner option is recommended for students who are in Std. XI and who are yet to fully cover the syllabus. If you feel inadequately prepared on a particular month's topics, you can opt out of paid subscription for that month.
Free subscribers can also submit solutions. I will pick two random submissions among them and give full feedback.
Previous question papers
Contact
You can reach me at this number: 7975 2867 81. I'm happy to talk to both students and parents.
---
Payment option
Payment must be sent to the UPI address given below. Please send me an email with the transaction number or a screenshot so that I can link your payment to your email ID.
UPI Address: cmi-tomato@sbi
---